Another aspect of Myriad Organics is the Rural Skills Centre, which we feel runs well beside the shop, sharing the same Green ethos.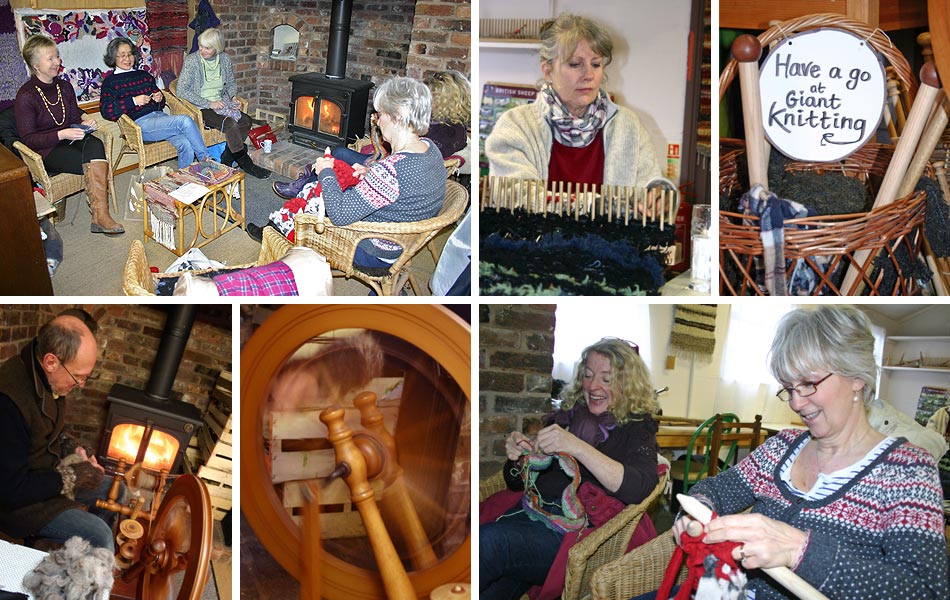 We are lucky enough to have a space at the back of the shop which we now use to display and sell locally produced wool-related items (bags, hats, scarves, rugs, throws), and the tools and yarns with which to explore your own creativity!  The RSC has been described as an "Aladdin's Cave" with sustainability and recycling at the heart of what we do.
We stock Big Knit yarns and selvedge waste, Big Knit needles and crochet hooks, rag rug tools and books, peg looms, plus some really beautiful, locally made textile goods.
We are delighted to have on board some very talented local craftspeople who are available to give advice and tuition on spinning and weaving, knitting and crochet. We run a "Woolgathering" session every Wednesday morning from 10.30am–12.30pm for people to come along with their own projects, or to learn how to take up a new skill such as big knitting or peg loom weaving.  These weekly sessions cost £2.50 (tea or coffee provided) and offer a splendid opportunity to make new friends as well as progress your knitting, crochet, and sewing talents.  In the winter we have the log burner going as well, so it really is a cosy, relaxed and friendly atmosphere.
The RSC is "manned" by a talented team of volunteers who are very pleased to help visitors and give advice about wool-related matters.  Currently we are open on a Wednesday morning, Thursday all day and Friday all day, although we are very happy to open up at other times to enable visitors to have a look around and of course buy whatever may take their fancy.
Please do visit and see what lovely woolly things are available. We think you will be pleasantly surprised with the range of finished goods on sale, and with the yarns and tools which we can offer.
Call Jacki on 01584 874888 to find out the latest RSC news.